Abigail Barefoot
Assistant Professor of Instruction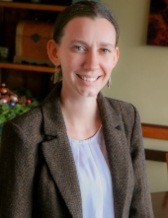 620 Lincoln St, #202
Office Hours: Fall 2023 | In Person: Wednesday 11:00 a.m. - 1 p.m. Thursday Via Zoom: 9:00 a.m. - 12 p.m. with this link: https://calendly.com/abigail-barefoot/zoom-office-hours
Abigail Barefoot  is an Assistant Professor of Instruction at the Center for Legal Studies. She received her Ph.D.in Women, Gender, and Sexuality Studies from the University of Kansas. 
Prof. Barefoot's research explores questions of justice, safety, and accountability through the lens of prison abolition and critical carceral studies. Her research has been funded by various entities including the National Science Foundation. Abigail's current book project Beyond Carceral Responses: Transformative Justice, Prison Abolition, and the Movement to End Sexual Violence examines transformative justice practices for sexual violence. Transformative justice builds upon prison abolition frameworks and uses community-based methods to offer immediate safety for survivors while developing nonpunitive accountability measures. Using an ethnographic approach, Abigail unpacks the tensions, contradictions, and possibilities of practicing transformative justice as experienced by survivors, facilitators, and people who cause harm. Her other teaching and research interests include LGBTQ Studies, American social movements, and mass incarceration.
Courses Taught:
Legal_St 340 Gender and the Law
Legal_St 398-1,2 Advanced Research Seminar
 Selected Publication
2021.  "Women-Only Spaces as a Method of Policing the Category of Woman" in Feminist Geography Unbound: Discomfort, Bodies, and Prefigured Futures. Edited by Gökarıksel, Banu, Michael Hawkins, Christopher Neubert, and Sara Smith, 231-262.  West Virginia University Press.
2019.  "The Limits of the State: Feminist Perspectives on Carceral Logics, Restorative Justice and Sexual Violence."
Kansas Journal of Law & Public Policy
28 (3): 505-526. (With Sarah Deer)