A Message from the Director
From the desk of Laura Beth Nielsen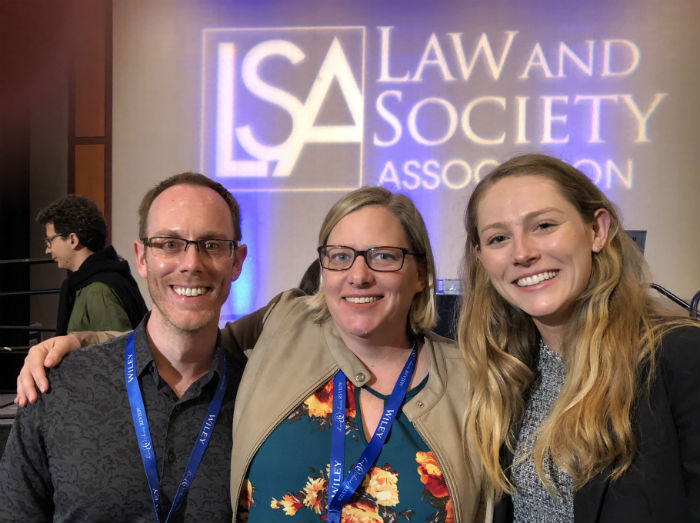 Laura Beth Nielsen with Legal Studies undergraduate Katie Mansur (Weinberg, 2018) and Stefan Vogler, GFILS and incoming Law and Inequality Postdoc, accepting their awards at the Law and Society Association annual meeting in Washington D.C.
May 30, 2019.


Hello from Legal Studies at Northwestern,
As usual, Legal Studies has been bustling with events, activities, and classes. Some of our postdoctoral fellowships are coming to an end which will make for new teaching challenges, but the major and minor numbers are growing and growing.
Applications to the Major & Minor
Legal Studies is growing in popularity! In the last six years, the applications to the major have doubled. In 2013-14, we had 27 applications and this year, we had 54. It's exciting for all of us to have so much interest. We made the difficult choice to keep the Advanced Research Seminar a requirement for all students when we retooled the major in 2016-17 which continues to limit how many students we can accept, but we hope to be able to grow our faculty soon.
Our major graduation numbers stay around 25 per year due to the thesis requirement (we are one of the last holdouts in WCAS requiring a thesis for all majors), but our minor numbers are growing significantly. This year 39 students will graduate as Legal Studies Minors (up from 24 in 2013-14).
Exciting News
Legal Studies majors are making their mark in the Law and Society Academic Community and in law schools. The Law and Society Association's Best Undergraduate Paper Prize was awarded to Katie Mansur (WCAS '18) for her thesis: "All Bets are off in the Climate Casino: Federalism and U.S. Power Sector Greenhouse Gas Regulation." If that were not exciting enough, the honorable mention went to another Legal Studies thesis! Haley Glazer (now a senior) won the honorable mention for her paper, "Demographic and Case-related Factors Affecting Quantity of News Media Coverage in Texas Death Penalty Cases: An Exploration."
In addition, Legal Studies graduates are the incoming Editors-in-Chief of two of the top ten law reviews. Emily Vernon at the University of Chicago Law Review and Noor-ul-ain-Hasan at the California Law Review.
We would love to know YOUR updates! Send them along to us for the next newsletter.
Excellent Events
This has been another year of excellent events! On April 25, 2019, we hosted Catharine MacKinnon, the Elizabeth A. Long Professor of Law at the University of Michigan Law School, and the James Barr Ames Visiting Professor of Law at Harvard Law School. She spoke about her new book, Butterfly Politics (Harvard University Press) and the #metoo movement. Co-sponsored with English, Gender and Sexuality Studies, and One Book, One Northwestern, the room was packed and we had really interesting conversation about the role of law in setting social movement agendas and the age-old question of whether law leads of follows social change.
We also had the pleasure to welcome Professor Robert W. Gordon, Professor of Law and History at Stanford Law School for our annual Law in Motion Lecture, "Private Practices, Public Projects: Reflections on Connections between Work for Clients and Public Activities in the History of the Legal Profession," on May 16, 2019. The next day, we hosted a mini-conference to help prepare Professor Justin Simard's book for submission.
Spring 2019 Event Photos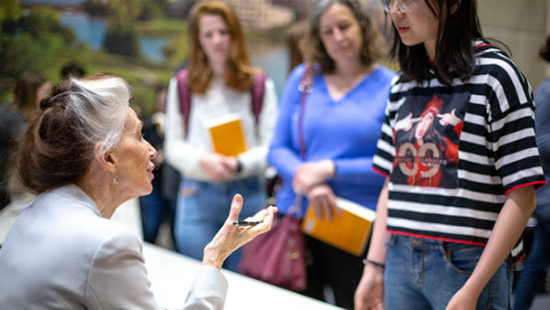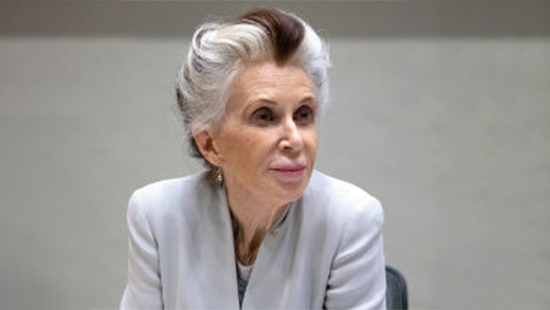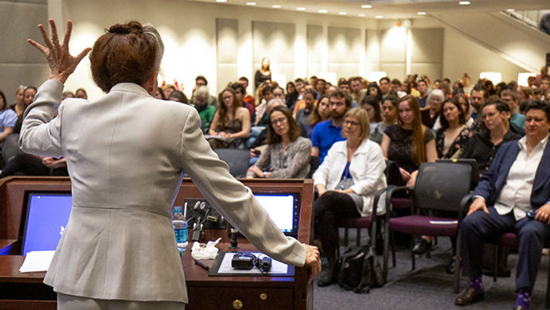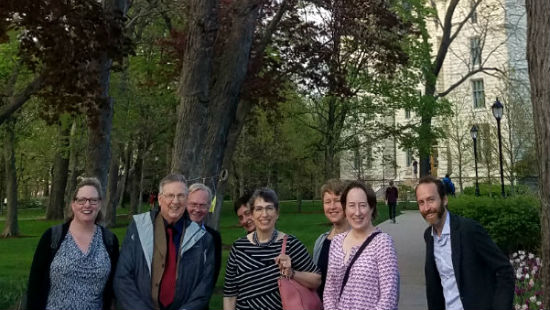 All Catharine MacKinnon photos by Mike Calabro.
Generous Support
Unfortunately, after eight years, our partnership with the Jack Miller Center is ending. JMC provided Legal Studies the opportunity to stretch our wings and grow. Both JMC and NU Legal Studies are hopeful for future partnerships, but this sustaining funding has been critical for our teaching. Luckily, we have one more year of the Northwestern Law & Inequality postdoctoral funding!
We want to thank the donors who have so generously contributed to Legal Studies this past year. We truly appreciate your gift and it supports the continuing efforts of the program to remain at the forefront of teaching and research across a broad spectrum of legal studies.
For a limited time, gifts to the Legal Studies program will be matched dollar for dollar. *
A $20 gift now becomes $40, a $50 gift becomes $100, and a $100 gift becomes $200.
Your gift can provide TWICE the support for Legal Studies. Make your gift before the matching pool runs out. To make a gift, click the "Donate Here" button below (or type wewill.northwestern.edu/WeinbergMatch2019 into your search bar), click 'View additional gift designations' and type 'Legal Studies Program' in the search box.
Thank you in advance for your support!
P.S. Gifts of every amount make a difference for Legal Studies—and will also count toward securing this challenge offer.
*One match per donor until the matching fund limit is reached. $100 cap per match. For a gift to multiple areas within Weinberg College, the match will be divided equally.
 Please let us know how you're doing, and come by anytime you are in town! We'd love to see you.
Kind regards,
Laura Beth Nielsen, Director
Back to top