Alumni Center Stage: Lauren Weinstein and Geoff Derrick
February 2018
Lauren Weinstein and Geoff Derrick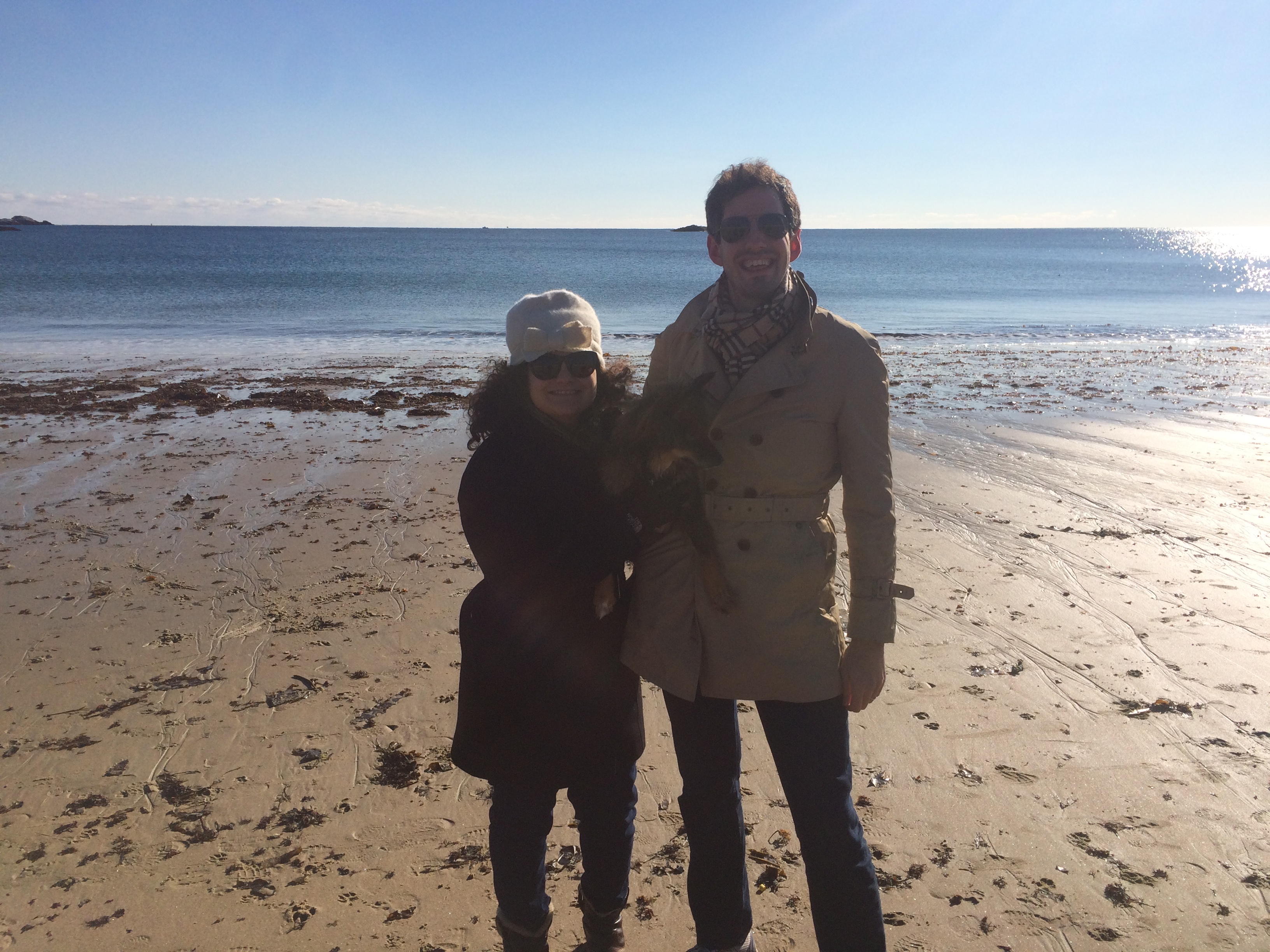 Lauren Weinstein and Geoff Derrick graduated from NU in 2007 as Legal Studies majors. Since leaving NU, they married (each other!), adopted a great puppy (follow her on Instagram using #ellerypup), and have fascinating career stories.  Since it is hard to choose a first Alumni Center Stage, we compromised and asked Lauren and Geoff to tell us their stories together.

Tell us about your Legal Studies experience at NU.  What year did you graduate, what was your thesis about, and what was your other major?
Geoff:  I graduated in 2007 and my other major was Communication Studies.  My Legal Studies thesis explored how the Supreme Court's so-called federalism revolution under then-Chief Justice William Rehnquist—United States v. Lopez, 514 U.S. 549 (1995), United States v. Morrison, 529 U.S. 598 (2000), and Gonzales v. Raich, 545 U.S. 1 (2005)—was a proxy for social disputes better handled by legislatures.


Lauren:  I also graduated in 2007, with a degree in Political Science as well as Legal Studies.  My Legal Studies thesis was about the use of social science evidence in adjudicating racial disparity in the death penalty.  I explored the fact that while the Supreme Court had been generally receptive to the use of social science data to find racial disparities in other areas (e.g., jury selection), it resoundingly rejected social science as proof of problematic racial disparity in the imposition of the death penalty in McCleskey v. Kemp, 481 U.S. 279 (1987).
What happened after NU and where are you working now?
Geoff:  I worked as a paralegal in the ACLU's Program on Freedom of Religion and Belief in Washington, D.C. from 2007-2009, assisting public interest attorneys with First Amendment Establishment Clause litigation.  I enrolled at Suffolk University Law School in 2009 with the goal of being the sort of public interest attorney I met at the ACLU: working in my local community with underrepresented clients, litigating constitutional questions, and advising local, state, and federal governments on policy formation.

I transferred to Boston University School of Law after my first semester and charted a course towards becoming a public defender.  I did so upon graduation in 2012, working first at the Center for Appellate Litigation in New York City and then at the Federal Defenders of San Diego, Inc. in California.  I found myself in exactly the right place at the right time when I helped free my first ever client, Carlos Perez, from prison after he served 17 years for two murders he did not commit.  See Colin Moynihan, Cleared of One '95 Murder, 3 Men Have Conviction Vacated in a 2nd, N.Y. TIMES at A21 (Jan. 23, 2013).

I left public defense to spend three years as a law clerk to two judges in Washington, D.C.:  Judge Catharine F. Easterly of the District of Columbia Court of Appeals and Judge Paul L. Friedman of the U.S. District Court for the District of Columbia.  Clerking was absolutely the best job I've ever had, and I've had a lot.  I learned how to litigate, how judges think, and how to write.

After clerking, I chose to enter private practice and now work as a litigator in the Labor and Employment group at the Washington, D.C. office of Akin Gump Strauss Hauer & Feld LLP.  I chose not to return to public defense because some of the most interesting cases I worked on as a law clerk were complex civil commercial disputes—exactly the sort of subject matter I avoided in law school.  I couldn't be happier with the choice I made.


Lauren:  My Legal Studies work planted a seed in my head that I might want to pursue academia, and I was fortunate enough to receive the Fulbright to study Black Madonnas—dark-colored sculptures of the Madonna and child—in Paris and throughout France after NU.  It was a remarkable experience, and the NU Fellowships Office, as well as my professors, were so supportive and helpful throughout the application process.  After a year as an academic, I realized it wasn't for me, and I decided to go to law school.  So, I moved to Washington, D.C. to be with Geoff and work on my applications.

During that time, I worked as a paralegal in a very small law firm that focused on criminal defense work.  The cases were fascinating and the clients—who were mostly incarcerated—were too.  When I got to Harvard Law School, based on that experience, I thought I wanted to pursue a career in criminal law.  I spent all three years of law school working as a research assistant to Professor Carol Steiker, a world-class death penalty scholar, and working on death penalty cases in the Supreme Court and federal courts of appeals.  I also served as one of the Editors-in-Chief of the Civil Rights-Civil Liberties Law Review, and got to the semifinals of the Ames Moot Court Competition.  All those experiences confirmed I wanted a career in litigation, focused on written and oral advocacy.

I decided to clerk in both federal district and circuit courts to really learn how to be a litigator.  The Hon. John G. Koeltl, of the Southern District of New York, gave me my first job out of law school and taught me the meaning of hard work.  And the Hon. M. Margaret McKeown, of the Ninth Circuit Court of Appeals, gave me my second job out of law school and taught me how to balance that hard work with family, travel, and other commitments.  Both of the judges I clerked for are truly remarkable jurists and people, and I remain in close touch with both of them.  They were both law firm partners before becoming judges.  Their experiences and the wide-variety of cases I was exposed to as a law clerk led me to pursue a career in the private sector after clerking.

After a gorgeous year in San Diego where I clerked for Judge McKeown and Geoff worked at the Federal Defenders, we packed up our belongings and new puppy and headed East, back to Washington, D.C.  I started working as a litigator at a small, relatively new law firm called MoloLamken LLP, where I've been for the last three years.  I work with some of the most talented attorneys I've ever met, who happen to also be truly fantastic people.  I've had the opportunity to work on high-profile cases at all levels of state and federal courts.  And I've gotten more experience in three years than most associates get at large law firms in ten.  I couldn't be happier with my career choices, which you can read more about here and here.
Do you think being a Legal Studies major was important for your career?  Why?
Geoff:  Absolutely.  Learning from Laura Beth was instrumental to me pursuing a career in the law.  Some law students and even lawyers think of difficult legal issues as merely technical rules that one can apply in a regimented way, like solving a math problem.  Laura Beth taught me that social forces—principles driven by the study of Sociology, Psychology, History, etc.—often influence the choices that actors make within the legal system make.  Learning those lessons at age 19 provided me a strong sense of agency as I became one of those actors.  I thank my Legal Studies education for allowing me to approach difficult legal questions with a better sense of all the factors informing them.  I think that is an especially valuable perspective for any lawyer.


Lauren: I agree with Geoff's take.  An interdisciplinary approach to law is essential to being a well-rounded attorney, and that's the only approach I've ever taken, thanks to my Legal Studies degree.  I will add the caveat that I wish I hadn't been so focused on becoming a lawyer in undergrad.  I didn't enjoy my Political Science major nearly as much as I enjoyed my Legal Studies major and wish I had pursued something more interesting as my other major, like History or African American Studies.
What do you wish you knew as an undergrad Legal Studies major and what advice would you give the students?
Geoff: I wish that I knew that I should not try to learn black letter law.  Do not fixate on understanding the exact contours of legal doctrine as an undergraduate student because you will learn that in law school.  Learn only as much doctrine as is necessary to reach the more important questions that spring from the combination of law and other social sciences.


Lauren: Same here.  I took Latin in undergrad because I thought it would help me in law school (so did Geoff).  Spoiler alert:  It didn't.  Legal Studies encouraged me to explore, and I would take every opportunity to do that in undergrad.  The most interesting lawyers, I think, are the ones with diverse backgrounds (i.e., two of the partners at my firm were math majors), so take the time to explore what you like and don't worry if it will be useful in law school.  That said, learning to be an excellent writer never hurts.
Lauren, we read your interesting article about being a young woman lawyer in the New York Law Journal. What was the response to that?
Lauren: The response was really fantastic.  When I first sent the article to the named partners at my firm I thought I would have to fight to get it published, or at least pitch them on why it should be published.  But I didn't have to do that at all.  They were both immediately very supportive and connected me with the firm's PR people to help me get a good placement.

Since, then I've heard lots of stories from other women lawyers about their experiences and what we can do to make the law better for women.
Back to top